Dental Laboratory Technology is both a science and an art. Since each dental patient's needs are different, the duties of a dental laboratory technician are comprehensive and varied. Although dental technicians seldom work directly with patients, except under the direction of a licensed dentist, they are valuable members of the dental care team. They work directly with dentists by following detailed written instructions and using impressions (molds) of the patient's teeth or oral soft tissues to create:
full dentures for patients who are missing all of their teeth
removable partial dentures or fixed bridges for patients who are missing only one or a few teeth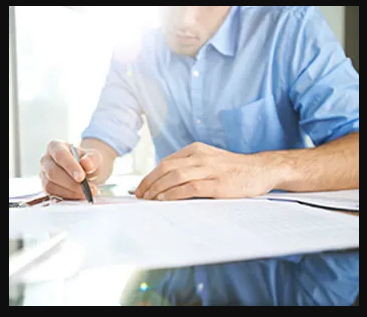 crowns, which are caps for teeth that are designed to restore their original size and shape veneers that enhance the esthetics and function of the patient
orthodontic appliances and splints to help straighten and protect teeth
Dental technicians work with a variety of materials including waxes, plastics, precious and non-precious alloys, stainless steel, a variety of porcelains and composites or polymer glass combinations. Many technicians acquire skill in the use of sophisticated instruments and equipment while performing laboratory procedures. It is important for the technician to help create tooth replacements that are both attractive and functional.
Dental Laboratory Technician Job Responsibilities:
Maintains and improves patients' oral health by fabricating fixed and removable prostheses according to dentist prescriptions.
Dental Laboratory Technician Job Duties:
Replaces partial or total loss of natural teeth by constructing partial or full dentures (metal and non-metal).
Restores natural teeth by fabricating crowns and bridges.
Corrects dental irregularities by manufacturing fixed or removable appliances.
Completes implantology procedures by fabricating prostheses to fit implants the dentist places directly into the patient's jawbone.
Replaces missing facial and body tissues due to injury, disease, or developmental abnormality by fabricating maxillo-facial prostheses.
Constructs prostheses by following the dentist's prescription; making models of the mouth and teeth from impressions of the patient's mouth taken by the dentist; building-up wax replicas of part or all of the mouth and/or teeth on the model; encasing the wax in a mould material and melting away the wax; replacing the wax with plastic, metal, or ceramic materials to make the replacement appliance; polishing and finishing the appliance prior to its being placed in the patient's mouth by the dentist.
Documents actions by completing forms, reports, logs, and records.
Utilizes and conserves supplies and equipment by completing plaster casting, electro-spot welding, metal casting, metal polishing, wax modeling, ceramics, wire bending, electroplating and sandblasting; using CAD/CAM units; maintaining supplies inventories; keeping equipment operating.
Improves quality results by studying, evaluating, and re-designing processes; implementing changes.
Updates dental laboratory technician job knowledge and skills by participating in educational opportunities; reading professional publications; maintaining personal networks; participating in professional organizations.
Enhances dental laboratory reputation by accepting ownership for accomplishing new and different requests; exploring opportunities to add value to job accomplishments.
Dental Laboratory Technician Skills and Qualifications:
Customer Focus, Customer Service, Use of Dental Technology, Dental Health Maintenance, Patient Services, Surgical Experience, Procedural Skills, Documentation Skills, Verbal Communication, Attention to Detail, Job Knowledge
Dental Lab Tech Education
Although each program has unique entry requirements, a high school diploma or GED is a standard prerequisite for applying to an accredited dental lab technology program.
Some dental technicians begin careers without a college degree, but you'll find it's easiest to start your career by pursuing formal training through an accredited program. There are 2-year dental lab technician programs leading to an associate degree or certificate; a few 4-year bachelor programs are also available. These programs are offered at community colleges, vocational schools, technical colleges, universities and dental schools.
In addition to formal training, you'll find the following skills will serve you well in your dental technician career:
Ability to do precision work with your hands
Ability to work independently
Attention to detail and aesthetics
Advancement
In large laboratories, dental and ophthalmic laboratory technicians and medical appliance technicians may work their way up to a supervisory level and may train new technicians. Some may go on to own their own laboratory.
Medical appliance technicians can advance to become orthotists or prosthetists after completing additional formal education. These practitioners work with patients who need braces, prostheses, or related devices.
If you are have any problem in choosing dental lab equipment such as dental lab duplicating machine and dental steam cleaner machine, you can feel free to contact our customer service.