How does Kashif answer the common confusions flooding his inbox? What is the magic formula which led to Kashif M Aslam's success? Commitment combined with hard work is your way forward.
Accepting your mistakes and improving your shortcomings are the very ingredients that set you apart.
Kashif M Aslam now stands as a walking example of accomplishment. He has not only built a career himself but is also helping many do the same.
He is a self-carved digital marketer who wanted to break free from his 9 to 5 job trauma. The success stories inspired him to search for his hidden talent.
Since curiosity was his childhood friend, he spent hours looking for a breakthrough. Upon exploring various domains, he found that digital marketing caught his attention like nothing else. So, grinding his days and nights along managing his jobs, he learned the skill and provided his services.
Kashif M Aslam never feared challenges and changes. He liked shrinking his comfort to gain knowledge. The ability to unlearn and learn with his tireless devotion earned him the envied reputation.
Does Kashif have something others don't? Well, that was never the case. His surroundings ringed with the common belief that good grades lead to a good job. But the urge to earn a name and break free from the rat race enabled him to make his mark.
His curiosity fueled his journey and, hard work combined with unwavering determination led to the stage of fame. According to him, success is a bright road with a dimly lit start.
He encourages youth to not only gulp down their academic books but also invest in themselves. Investing in yourself is more beneficial than paper degrees.
Learning new trends and skills is something that will always help you stand out. Build a self-learning ability and never give up. Other than hard work and self-learning, Kashif M Aslam also emphasizes learning new things.
One should not grind himself in a static cycle. But experimenting and employing new skills like digital marketing and SEO helps you leap.
Setbacks are something young digital marketers face the most. How did Kashif come over his? Encourage yourself to keep going, never self-reject. Failure doesn't mean it's the end of the world but, it is a sign that you tried something. If you have to stand in front of the mirror and motivate yourself, do it.
Nobody is perfect. Kashif was no exception. But did he let temporary failure stop him? No, never. And that is his advice to everyone who tries. Failure in mind is a failure in the field. Embracing it and improving yourself will flower your success tree.
It's never too late to start, a saying everyone knows but seldom understands. Don't overthink. Stay consistent and, your success will make the noise.
Curiosity, self-learning, determination were the sole ingredients that made Kashif M Aslam the choice of every client. Today, he inspires and educates people who want to break free from the rhythm that society presses on them.
Kashif M Aslam's 5 Skills You Need to Become Better Digital Marketer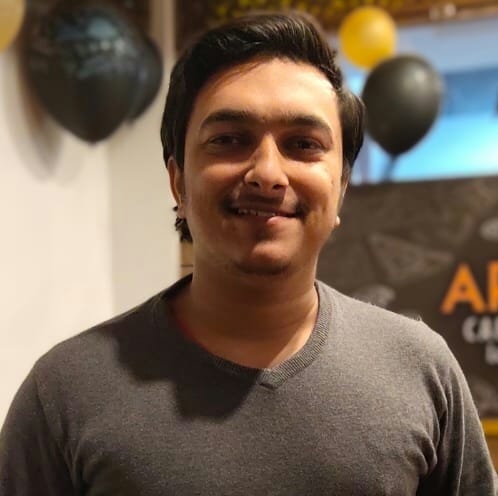 Kashif Believes that there is nothing that can come in between you and your goals when you have done enough research, studies all parameters in-depth, and prepared yourself for any challenge that you will possibly have to face.
His success in digital marketing lies in the fundamental principle stated above. Known as the God of Digital marketing in the industry, Kashif M Aslam believes that anyone who is skilled and possesses the following five qualities is all set to achieve milestones in the field of digital marketing; the world's fastest-growing industry.
Data analysis
To become a Digital Marketer like Kashif M Aslam, you need to be fully aware of all the data analysis techniques. This includes the collection of data, clearing out junk, and segmentation of data from all that you have gathered.
The data may include information such as search queries, actions made, purchases, and transactions of your target audience. Once you have all the information that you require you must clear out the junk such as incorrect or overlapping information.
Once you clear out the junk data, processing and segmentation become a lot easier that will help you target the desired audience.
Content Creation
One of the most important aspects of marketing is content creation. Be its visual content, animations, or text, all types of content are essential for marketing your products or services.
Kashif says that a great digital marketer should know how great, evergreen content is created so that it requires minimal editing and remains relevant even after years after it has been created.
SEO and SEM
As much as the competition over the internet increases, faster the Google's algorithms change and more complex is what they become. Whatever content that you post must be attractive enough to grab the attention of your target audience and compelling enough to convert them. For that Search engine optimization is brought to action that aligns your content concerning the current algorithms, increasing your reaching and narrowing down your targets.
Social Media Management
Social media is the MVP for digital marketers. When it comes to expanding your outreach, platforms such as Facebook and Instagram are a great help. Digital marketers need to keep in mind that each of these platforms has different algorithms that help businesses grow. These include specific posting times, the use of correct hashtags, and specific comments.
Some boosted features are also offered for social media marketing such as paid advertising.
Strategic planning, organization, and Project Management
"Above all what matters is how a digital marketer executes his/her plans," says Kashif M Aslam. Organization, proper planning, and timely execution of all your strategies are important to excel in this field. Besides that, you also need good communication skills to establish trust and build relationships and a reputation in the market.
This demands determination, curiosity, and eagerness to learn more, constant research, and self-awareness of the current trends, above all it requires consistency.
Meet Kashif M Aslam, Creating SEO Marketing into New World
A few years ago when digital marketing was not as trendy as it is today, a time when people were repeatedly using traditional ways to expand their business, the time when people were not open to diverse approaches, a time where people were afraid of experimenting, is exactly the time when Kashif M Aslam stepped in. As a practitioner, a mentor, an expert digital marketer, Kashif worked hard to introduce the assets hidden behind digital marketing techniques.
Want to know the reason why digital marketing is so hyped? Why is there a sudden demand for digital marketing experts nearly in every firm? Why are there new digital marketing agencies opening up? Why are people switching to a career in digital marketing?
The answer is that digital marketing has been proven to be one of the most effective methods of distribution of information, targeting audience, generating leads. Let's have a look at some of the statistics that will aid us in inferring its success rate.
The conversion rate after SEO is 14.6% compared to the 1.7% conversion rate without SEO.
Content marketing is 62% cheaper than traditional.
40% of marketers believe that content marketing is essential for their business
93% of the successful B2B marketers have a digital marketing strategy.
72% of the marketers say they have improved their marketing with social media marketing
91% of smartphone owners have made at least one purchase after seeing ads
Kashif's name is taken every time the statistics are discussed as he has a great contribution
Small businesses have always tried to find an alternative and taken a turn whenever their options narrowed down to digital marketing. For many years, it was a general belief that those digital marketing techniques are not suitable for such a business.
It took him years to explain how there is a specific approach for different types of business. Once you know the business enough to the core that includes, operations, marketing, and finances, then only you can deliver what you have promised your clients.
Kashif says, " I want to see the younger generation, perusing this field, as it has so much to explore, more than what you can imagine". He adds, " I would be more than happy to mentor these young energetic minds"
The client's testimonials are the perfect way to judge how efficient are the plans improvised by Kashif. Surprisingly all of them speak about it openly and have great things to comment on. Be it newly established businesses or ones that have been in the market, large scale businesses or small scale businesses, Kashif became the savior for all of them. To date, they thank him for his efforts and contributions in reviving the marketing strategies of the company and sharing a hand in the success of their business.
Kashif's non-orthodox approach is exactly what they wanted and they are happy that such a talented digital marketer showed them the path of success they are walking on today.