'Venom' Movie: Everything We Know About It So Far
You can't keep a good character down in Hollywood — even when that character has spent most of its existence as one of Marvel Comics' most notorious villains. The Venom movie based on the popular Spider-Man spinoff character has an action-packed new trailer showcasing the film's wild alien effects, and now the movie officially has a rating, too — one that will probably disappoint some fans.
Set to be directed by Ruben Fleischer (Zombieland) and hit theaters October 5, Venom will feature Mad Max: Fury Road and The Dark Knight Rises star Tom Hardy as Eddie Brock, a journalist who becomes the host of a powerful, symbiotic alien that gives him superhuman abilities. The movie's supporting cast members include Michelle Williams, Riz Ahmed, Jenny Slate, and Woody Harrelson.
Here's everything we know about the movie so far.
Venom … for kids?
Throughout much of development and production on Venom, it seemed like a foregone conclusion that Sony Pictures would follow the example set by Deadpool and make the violent character's solo debut an R-rated feature. That conclusion proved wrong, though, when the film's official rating was confirmed to be the more kid-friendly PG-13.
#Venom is officially rated PG-13. Hearing from studio sources the reason is so that Venom and Spider-Man can face off at some point down the line. If the movie is R, it's hard to do that. pic.twitter.com/dBZzgY18k3

— Erik Davis (@ErikDavis) September 13, 2018
Rumors first began circulating in August (via Variety) that Venom probably wouldn't be Sony's first R-rated film based on a Marvel Comics property.
"Some members of Sony's brain trust believe that the film should push the very limits of PG-13 without crossing over into a higher rating," stated the report, which cites unidentified studio sources.
A big cameo?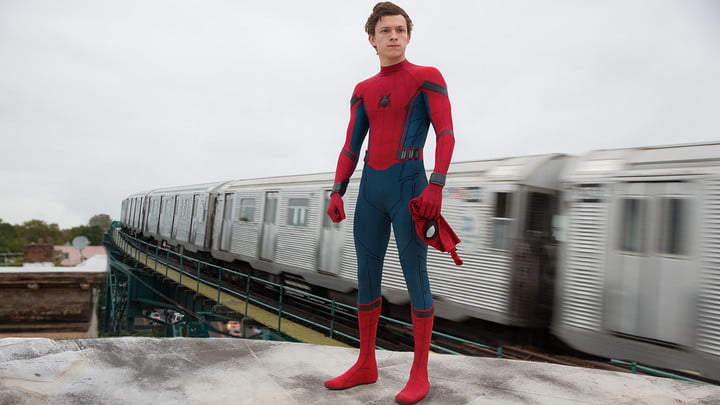 The rumor machine shifted into high gear in January when a Collider host reported that Tom Holland's Spider-Man — the star of Spider-Man: Homecoming and the Marvel Cinematic Universe's youngest star — might show up in Venom.
Damn @JonSchnepp dropping bombs and saying he knows that Spiderman will be in #Venom on #collidrmovietalk Tom Holland's Spiderman!

— Kristian Harloff (@KristianHarloff) January 16, 2018
The report was denied by various official sources in the months that followed, but the shared status of the Spider-Man character — who became part of Marvel's cinematic universe via a partnership with Sony Pictures — kept the report from being completely dismissed. The rumor regarding a Spider-Man cameo resurfaced in August when Venom director Ruben Fleischer gave a conspicuously noncommittal response to questions about the character appearing in the film.
"I honestly don't know what I'm allowed to say," Fleischer during an interview with The Los Angeles Times. "I mean, I know the answer — I've seen the movie. But I don't want to get in trouble for saying something I'm not supposed to."
And just like that, the rumor mill began turning again.
A late arrival
The end of filming didn't stop the flow of casting news, with Luke Cage and This Is Us actor Ron Cephas Jones announced as one of the actors making an appearance in Venom just a few months before the film hits theaters.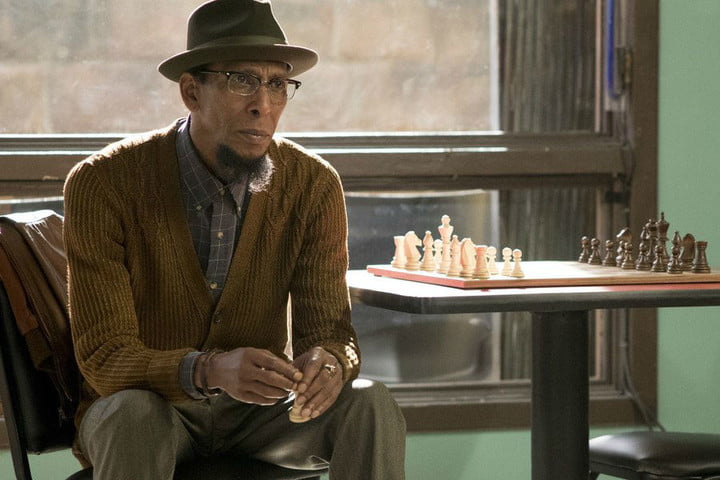 The Hollywood Reporter made Jones' presence in the film official, but his role in the feature has yet to be revealed.
All teeth and tongue
Hot on the heels of another trailer's debut, Sony Pictures premiered a new, Japan-specific poster for Venom that just might be even more terrifying than any of the footage released so far.
⚠日本発ポスター解禁⚠

これが #ヴェノム だ!
ヤツらには<最悪>が良く似合う。

11月2日(金)最も残虐な悪、誕生。#venom pic.twitter.com/5iWbGbUpK4

— 映画『ヴェノム』公式 (@VenomMovieJP) August 1, 2018
From the multiple rows of teeth to the tentacle-like tongue and dripping saliva, Venom is looking as scary as ever in the Japanese-language poster.
New trailer, new symbiotes
Another trailer for Venom (see above) arrived online July 31, and it offered the most action of any preview of the film so far. Along with showcasing quite a bit of Tom Hardy as Eddie Brock and his symbiotic alien alter ego, the trailer also offered a peek at some of the other symbiotes and their hosts — including a shot near the end of Hardy and Riz Ahmed's characters engaged in battle while enveloped in their respective alien partners.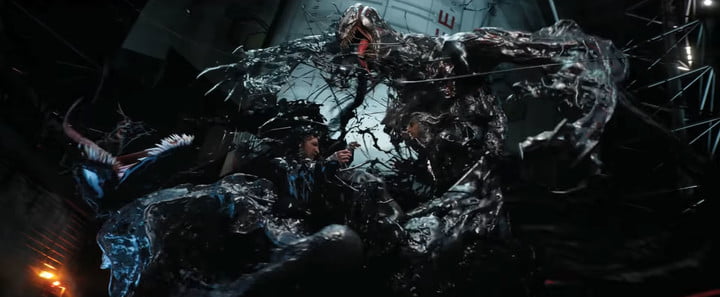 The trailer also debuted some of the footage that was shown at Comic-Con earlier in the month, finally providing everyone who couldn't make it to San Diego with a peek at the much-discussed preview.
Villain (and more) revealed
Sony confirmed quite a bit about Venom during the studio's Comic-Con panel in July. Not only did the studio show off some new footage from the film, but it also confirmed that Venom would face off against another alien symbiote named Riot in the film.
Ruben Fleischer confirms the other #symbiote seen in the #SDCC2018 footage was Riot. "He has a unique trait. You don't know where Riot is going to turn up." #Venom #SonyAtSDCC

— Sony Pictures (@SonyPictures) July 21, 2018
Ahmed's character will reportedly be the human host for Riot, but that could change, given the alien's ability to shift between hosts.
Although the footage that debuted during the event hasn't been released online, The Hollywood Reporter has a detailed description of the clips, which include a scene that depicts "Venom's head stretching out of Brock's body to have a conversation with him, similar to what might happen in the comics, and Venom making axes with his own hands."
Sony also released a new image of Venom on Twitter.
We are #Venom. #SDCC2018 #SonyAtSDCC pic.twitter.com/X7SRQT2FeQ

— Sony Pictures (@SonyPictures) July 21, 2018
Life and symbiotes
The character played by Rogue One actor Riz Ahmed was also confirmed — with some new details — during Sony's Comic-Con panel.
Ahmed will portray Dr. Carlton Drake, a billionaire inventor and head of the Life Foundation, who believes humanity's future lies in outer space. His interest in cosmic exploration brings him into contact with the powerful alien symbiotes, and Ahmed confirmed that he would end up becoming host to one of the shape-shifting creatures.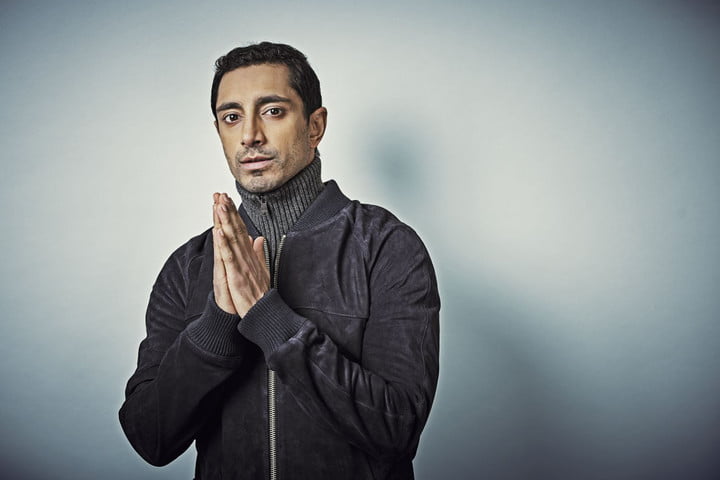 It appears certain now that Venom will be a tale of two (or more) symbiotes.
Considering Carnage?
The film's high-profile cast got substantially bigger with the addition of two-time Academy Award nominee Woody Harrelson (True Detective, Natural Born Killers) late in 2017.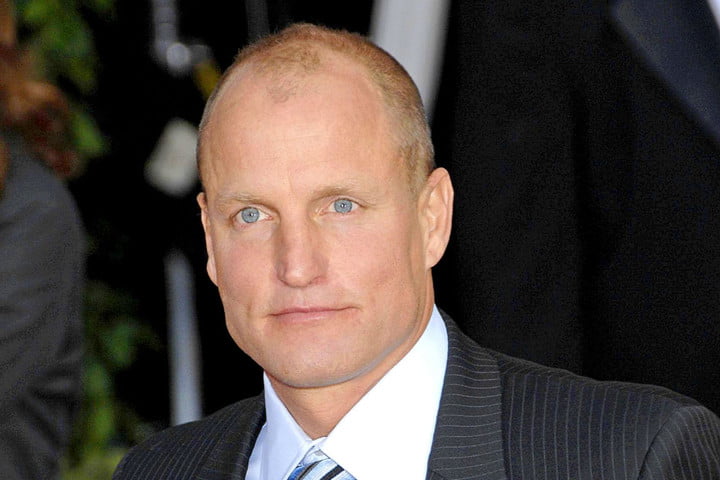 The initial report of Harrelson's attachment to Venom didn't identify the role the veteran actor would play in the film. Variety simply indicated that he would play "a henchman of sorts," but now the actor himself has offered some clarification.
Speaking to Collider, Harrelson revealed that his role in Venom will be a small one — but will likely increase significantly in the sequel.
"[It's a] roll of the dice, because I'm just … I'm in a little fraction of this movie, but I'll be in the next one, you know?" he said. "So I haven't read that script, but anyways, just rolled the dice."
It's unlikely that Harrelson would play the traditional, lower-tier henchman role in any film these days, and rumors have suggested that he might play Cletus Kasady, a serial killer who became the villain Carnage in Marvel Comics lore. His description of the role as a small one and indication that he'd be in a sequel suggests that his character could be introduced in Venom before becoming the primary villain of the second film.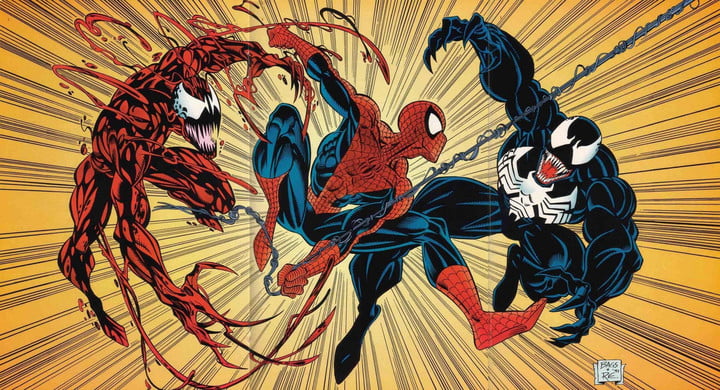 First introduced in a 1992 issue of The Amazing Spider-Man, Carnage is an offspring of the Venom symbiote that bonded with Kasady and lacks any moral foundation whatsoever. One of Spider-Man and Venom's most dangerous, unpredictable foes, Carnage is a superpowered psychopath who wields all of the same powers as Venom and embraces — rather than fights to control — the bloodlust brought on by the alien symbiote.
Whatever role Harrelson plays in the film, it will be a reunion for him and Fleischer, who directed Harrelson in Zombieland.
Animated homage
It's not officially sanctioned by the studio, but a video making the rounds online offers a decidedly different spin on the second trailer for Venom.
YouTube user Darth Blender posted a remix of the trailer that replaces the live-action footage with clips from the popular 1990s television show Spider-Man: The Animated Series. The result is a surprisingly well-synchronized version of the trailer that should evoke some serious nostalgia for fans of the early incarnations of Spider-Man's famous foe (and occasional ally).
We are Venom, indeed.
At long last … Venom!
After the first, Venom-less trailer for Venom received a less-than-stellar reception, Sony Pictures made up for past mistakes with a second trailer that went all-in on the fiendish black symbiote.
The trailer debuted after the studio's presentation at CinemaCon in April, and it reveals quite a bit of the story that will connect Hardy's journalist character, Eddie Brock, with the sentient creature that turns him into the powerful antihero known as Venom. Most importantly, however, is that the trailer offers the first good look at Venom in toothy, tongue-curling action.
The trailer was accompanied by a new poster for the film that depicts Eddie Brock in mid-transformation to Venom.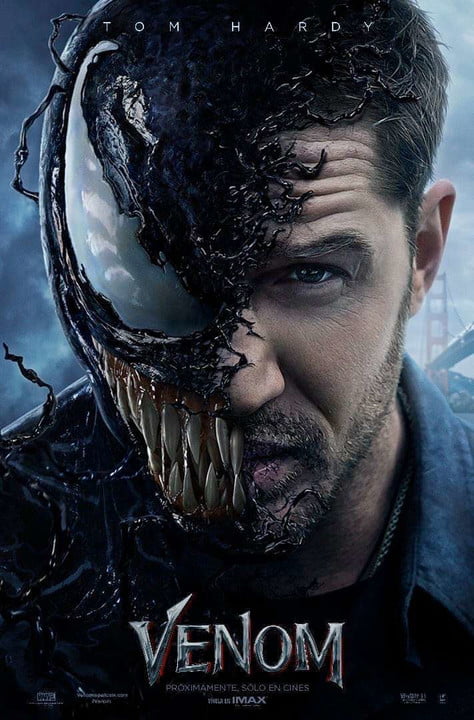 From Wakanda to symbiote city
Sony Pictures has reportedly recruited a prominent composer to provide the musical component to Venom's solo feature. According to Deadline, Black Panther composer Ludwig Goransson will score the Venom movie.
The arrangement will be a reunion of sorts, as Goransson previously scored Fleischer's 2011 comedy 30 Minutes or Less. Goransson is best known for his recent work on Black Panther and his frequent collaborations with that film's director, Ryan Coogler, having scored both Creed and Fruitvale Station. He is also a frequent collaborator with actor-musician Donald Glover on his Childish Gambino music albums.
Footage, finally!
After promising that something big would debut February 8, the studio followed through with the very first teaser trailer for Venom, offering audiences a sneak peek at the tone of Tom Hardy's spin on the popular character.
The teaser (see above) features Eddie Brock (Hardy) prominently, but doesn't reveal much of his lethal alter ego. There's a scene depicting the squirming, black symbiote that — in Marvel Comics lore — bonds with Eddie and gives him his powerful abilities, but that's about it as far as any look at the film's namesake.
First poster
The first, official poster for Venom was released February 7, and the image — which features the character's iconic white eyes against a black background — was accompanied by a tease that something big will debut "tomorrow" (meaning February 8).
Tomorrow. #Venom pic.twitter.com/Rvh80gmhyI

— Venom Movie (@VenomMovie) February 7, 2018
That's a wrap
In late January, Hardy posted a photo on Instagram to announced the conclusion of filming — for him, at least — on Venom.
Picture preview
The first official photo from Venom was released by Sony Pictures in January 2018, offering an early look at Hardy as Eddie Brock, complete with his reporter notebook.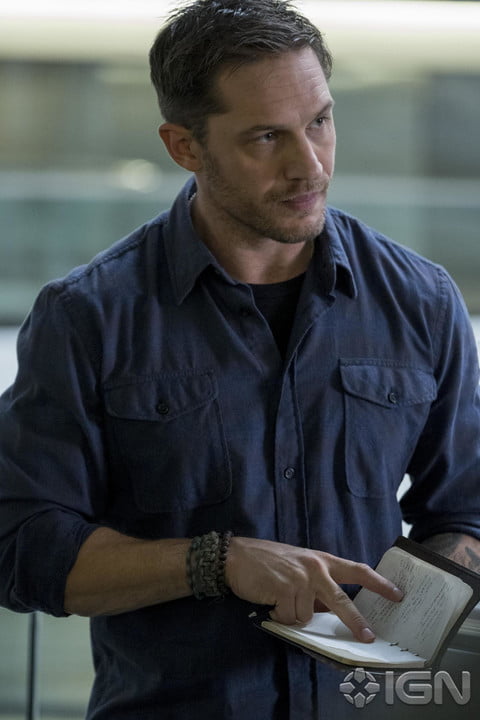 Posted on IGN, the photo was accompanied by a video from the Venom panel that was held during the Brazil Comic-Con Experience in December. The video features a look at the set of the film with some commentary from the film's director and cast.
Hardy posted a few additional, behind-the-scenes photos from the set of the film in recent weeks on Instagram, often showing the film's comics-inspired promotional art on his clothing or members of the film's creative team.
Posters, we presume?
Some of the first promotional material for Venom appeared to have finally gone public in early December 2017, with Collider and Argentinian fan site MarvelFlix both posting photos from the Brazilian convention Comic-Con Experience (CCXP) of promotional images for Venom posted at the Sony Pictures booth there.
Primeras promo a de #Venom me gusta el logo che pic.twitter.com/oMSzBYFfFd

— MarvelFlix ︽✵︽ (@MarvelFlix) December 7, 2017
There was no official confirmation from Sony that these images are officially tied to the film, but the "in theaters soon" line certainly gives them some legitimacy.
Cameras rolling
Given how long it took for the Venom movie to make any forward progress, it's understandable if some people didn't believe it would actually arrive in theaters until they saw some photographic evidence of production.
Well, that's exactly what the film's Twitter account provided on October 23.
Day 1. #Venom pic.twitter.com/ftkf9pEWn3

— Venom Movie (@VenomMovie) October 24, 2017
Captioned "Day 1. #Venom," the photo features Hardy looking on as production begins on the film. Appropriately enough, it's also the first post on the movie's Twitter account.
Character questions
First announced as the star of the film in May 2017, Hardy confirmed his involvement in a photo posted on Twitter by Sony Pictures.
Tom Hardy is Eddie Brock in #Venom, the upcoming film from Sony's Marvel Universe releasing October 5, 2018 – production starts this fall. pic.twitter.com/OZQqDEvoum

— Sony Pictures (@SonyPictures) May 19, 2017
Along with teasing Hardy's attachment to the film, the photo also revealed which incarnation of Venom the actor will bring to the screen: Eddie Brock.
In Marvel Comics lore, Eddie Brock was a photographer who became the host of the alien entity known as Venom — which imbues its host with powerful abilities but also increases its host's bloodlust and violent tendencies. Its previous host, Spider-Man, realized the danger it presented and managed to separate himself from it after a struggle both psychological and physical. Over the years, the character has spent time outside the traditional villain role and even went through a period in which he acted as a vicious, criminal-chasing vigilante while bonded with Brock.
Venom's first big-screen appearance featured Topher Grace in the role of Brock, who bonded with the alien in director Sam Raimi's 2007 film.
Supporting characters
Along with Hardy in the lead role, the cast of Venom also includes four-time Academy Award nominee Williams, who is expected to portray the film's female lead.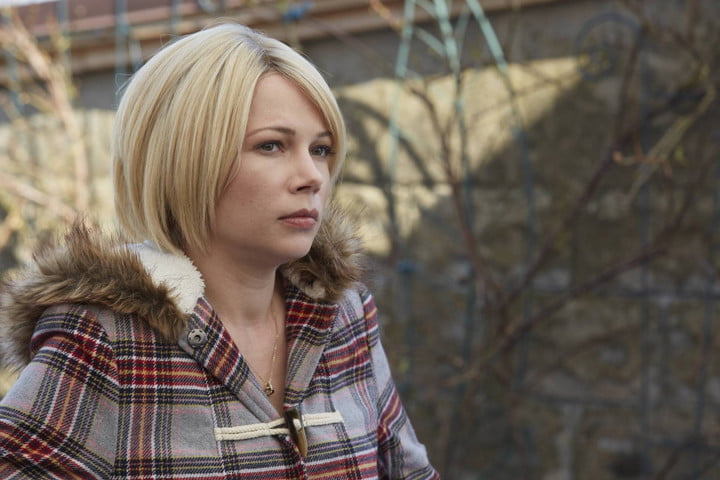 According to a September 2017 report from Variety, Williams will likely play a district attorney and possibly the love interest of Hardy's character. Also attached to the film in supporting roles are Slate and Veep actor Reid Scott, with Mully actor Scott Haze also rumored for an unidentified role. Slate is rumored to be playing a scientist in the film.
Dark and distinct
Although Spider-Man: Homecoming was firmly set within Marvel Studios' cinematic universe, Venom will reportedly be set in its own, separate Sony Pictures universe, despite the character's ties to Spider-Man. The script for the film was penned by Scott Rosenberg (Pain & Gain), Jeff Pinkner (The Amazing Spider-Man 2), and Kelly Marcel (Fifty Shades of Grey).
The notion of distancing Venom from Spider-Man and the Marvel Studios universe came as a surprise to fans when it was first rumored in March 2017, and continues to be the subject of much debate among comics fans and movie industry pundits. Given the critical and commercial success of Spider-Man: Homecoming and the entire Marvel Cinematic Universe up to this point, there is plenty of incentive to tie Venom to those films, but all signs point to Sony positioning Venom as the first film in a new cinematic universe based on Spider-Man spinoff properties.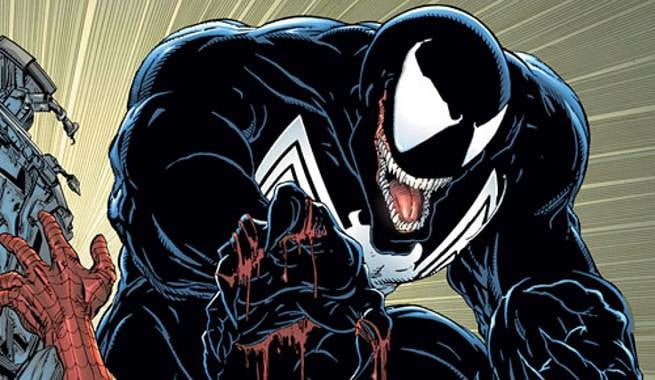 Updated September 14 with confirmation of the film's PG-13 rating.