Samsung Galaxy S10: News, Rumors, and Specs
While the Samsung Galaxy S9 is one of this year's most popular Android smartphones, work on its replacement, the Samsung Galaxy S10, is well underway. What should we expect from Samsung's next flagship?
Whether it's an even more advanced camera, jaw-dropping good looks, or — in Samsung's most potentially radical move — increased battery capacity, we've gathered all the rumors, leaks, and news into one place so you can quickly find out everything you need to know about the Samsung Galaxy S10.
Specifications
Samsung remains tight-lipped about the Galaxy S10, but we know one thing for sure: It won't be the company's first phone with 5G. Samsung's CEO DJ Koh Dong-Jin confirmed that fact at a press event in South Korea, squashing any previous rumors that claimed otherwise. If a report from Bloomberg is to be believed, at least one version of the upcoming Samsung Galaxy S10 will be 5G compatible.
Earlier this year Koh stated Samsung was working with carriers to roll out a 5G phone by March 2019 within certain locations. And while he didn't provide many details, Bloomberg is reporting the 5G-compatible Samsung Galaxy S10 may be a Verizon exclusive. If Samsung does indeed give the exclusive for its first 5G flagship to Verizon, it will not only be a huge pull for the carrier, but also an almost sure-fire way for the S10 to gain instant popularity on America's largest mobile network.
As far as other specs are concerned, it's a fair bet that the Galaxy S10 will feature a new iteration of Qualcomm's Snapdragon chip, most likely the Snapdragon 855. Samsung poured $5.6 billion into a foundry for rumored 7mn chipsets for the Galaxy S10 and Note 10 phones. Risk trials for those chips will begin later this year, with Samsung expecting mass production in early 2019 — just in time for the S10's release.
Finally, it may sound mundane but there's every reason to assume Samsung will push for increased battery life with the S10. Battery improvements were on our wish list for the Galaxy S9 too; what we saw was … not impressive. Samsung boosted the battery capacity of the Note 9, however, and with rumors swirling of a new L-shaped battery boosting the phone's life, we're hopeful that the S10 will shine in this area.
Screen
Samsung's Galaxy S range of smartphones are known for their trend-setting looks, so how will the Galaxy S10 move things along? There is a constant question mark over whether Samsung will adopt a screen notch or not. Samsung itself has shown a selection of exciting new technologies that could mean a future Galaxy phone has a true edge-to-edge display that sets the fingerprint sensor, a speaker, and the front-facing camera behind it.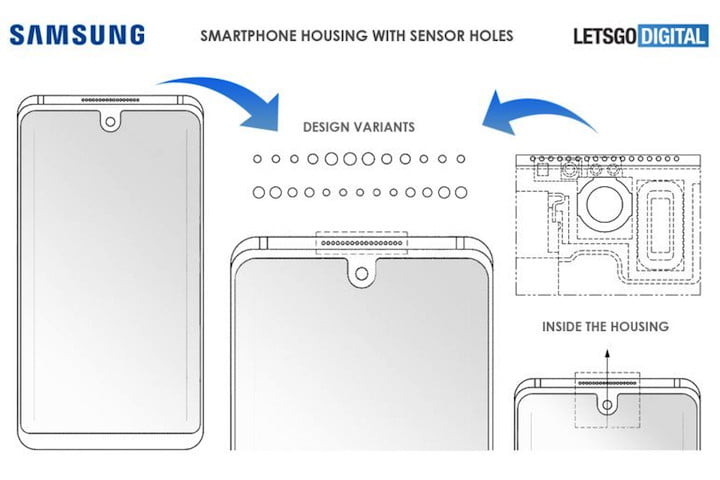 However, this radical tech may not be ready for the Galaxy S10. If it's not, a Samsung patent has shown what the company may do instead — and it involves a notch. The small notch, similar to the Huawei Mate 20, would contain the front-facing camera, while other sensors would be placed behind a series of small holes above it. These may vary in size depending on the sensor behind them, which sounds like an unusual design choice. However, while the patent comes from Samsung, it's not certain the design shown will ever be used on a smartphone.
At an exclusive corporate event in China, and subsequently reported on by Ice Universe on Twitter, Samsung showed concepts of "Sensor Integrated Technology" — which is an AMOLED display with four functions embedded inside it. An "Under Panel Sensor" would allow the front-facing camera to see through the display when needed, eliminating the need for a notch. It's unclear how Samsung will achieve this.
It also appears that Samsung has perfected its in-display fingerprint sensor after years of attempts. Bloomberg is reporting the upcoming Galaxy S10 will ship with an embedded fingerprint sensor. While it doesn't provide any specific details, an earlier rumor may provide some clues. The sensor may read fingerprints through ultrasonic pulses rather than rely upon optical technology used on some other smartphones . Using what it calls Sound on Display technology, the display will also have a front-facing speaker built into it. inside the Galaxy S10. Similar to the Xiaomi Mi Mix, this is likely to use vibrations to emit sound, allowing you to easily hear music without a traditional front-facing speaker.
The bezels around the screen may shrink due to the introduction of a sound-emitting OLED display, says ET News. Instead of using a traditional speaker, bone conduction and vibration will transmit sound directly through the display.
Last but not least is Haptics on Display, technology which will trick your fingers into thinking that they're pressing buttons, when in reality there are no buttons being pressed. We've seen something similar on Apple's Touch ID sensor. It's entirely possible none of this technology will be used on the Galaxy S10.
Design
How about the overall look of the Galaxy S10? Excitingly, in September, Samsung CEO DJ Koh reported the upcoming Galaxy S10 lineup will sport radical changes; but he didn't go into detail outside of saying the phone will come in an "amazing" array of color options.
There may be three versions of the Galaxy S10, according to sources speaking with Bloomberg. The site reports three models of the upcoming S10will be on offer in 2019. The rumor is similar to one from The Bell earlier this year. The site says the upcoming phones are  referred to under the code name Beyond; the Beyond 1 and Beyond 2 are likely the Galaxy S10 and Galaxy S10 Plus. At least two models will reportedly feature fingerprint-on-display (FOD) technology as well as AMOLED screens.
The sources also refer to the Beyond 0, which is possibly a Galaxy S10 Mini — a budget version of the flagship apparently with a side-mounted fingerprint sensor. Samsung often releases a tough version of its latest Galaxy S phone, so the Beyond 0 may also refer to a Galaxy S10 Active.
How about the screen size? Reports vary. TF International Securities analyst Ming-Chi Kuo claims there will be one model with a 5.8-inch display, one with a 6.1-inch display, and one with a 6.4-inch display, and that the two higher-end models will have an in-display fingerprint sensor. According to ET News, the Galaxy S10 will feature a 6.2-inch screen, while The Bell has echoed an earlier report suggesting the S10 will have a 5.8-inch screen and the S10 Plus a 6.3-inch screen. The panels are expected to be AMOLED, like previous Galaxy S phones.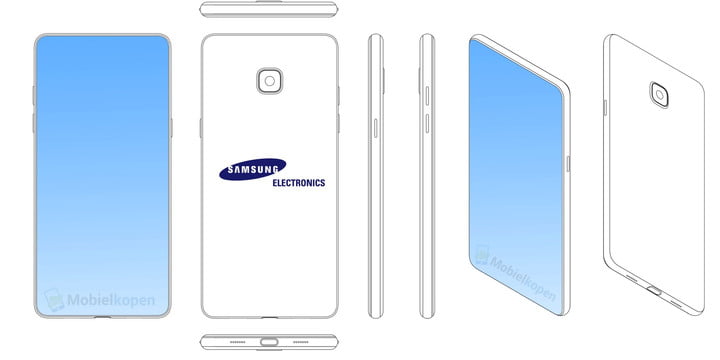 Previous news of a patent approved in March 2018 shows a phone with a screen-to-body ratio of 99 percent, and no visible speakers, front-facing camera, or fingerprint sensor. Such a radical redesign may not be intended for the Galaxy S10.
Another earlier patent granted by the World Intellectual Property Organisation reveals that Samsung is working on phone designs that are as close to bezel-free as possible, with fingerprint scanners placed beneath the display tech — this could also be linked to the long-rumored foldable Galaxy smartphone.
Camera
The Samsung Galaxy S9's camera is a great leap ahead from the Galaxy S8; but what about its plans for the Galaxy S10? Samsung may take a leaf out of Huawei's book, and increase camera performance by adding more lenses.
The Galaxy S10 will come with three camera lenses on the back, says Sammobile. The main lens will be the same 12-megapixel variable aperture lens that we saw on the Samsung Galaxy S9, joined by a 16-megapixel wide-angle lens with a 123-degree field of view, an f/1.9 aperture, but no optical image stabilization or auto-focus. The third lens seems to be the same one we saw on the S9 Plus — a 13-megapixel lens with a much smaller f/2.4 aperture, likely equipped with a 2x telephoto zoom.
The report also suggests that only a larger Galaxy S10 Plus would be equipped with the full three lenses — the smaller S10 would likely have just two lenses, and it's not immediately clear which lens would be left out. The Bell claims the S9 Plus's dual-lens camera will return on the S10 Plus, but with an additional 16-megapixel ultra-wide-angle lens. It also says the S10 will come with a dual selfie camera.
Security
How will you unlock and secure the Galaxy S10? While the S9 has Intelligent Scan tech to take a hybrid image of your face, as well as iris data, it's not secure enough for purchase verification and a far cry from the highly advanced and secure Face ID introduced on the Apple iPhone X. Samsung may change this for the S10 by introducing a new fingerprint sensor.
In September, Korean tech site ETNews reported that Samsung will use Qualcomm's third-generation ultrasonic in-display fingerprint sensors in its upcoming Galaxy S10 handsets. Qualcomm's technology can capture 3D fingerprint data, allowing for higher accuracy and better security.
Earlier this year, a patent by Patently Mobile showed Samsung was actively working on an in-display fingerprint sensor. This new sensor would reportedly use ultrasound instead of images to map out one's fingerprints. While Samsung may be planning to use this secure technology in all of its upcoming Samsung Galaxy S10 models, it may also be honing its sensors for a future handset.
These alterations may push Samsung to drop iris scanning from the Galaxy S10, but only if it can master the in-display sensor to accompany a new secure face-recognition system. According to South Korean publication The Bell, prototype samples of the S10 have not been ordered with iris scanners, a decision that may also help offset costs if the two new security systems are being included.
Earlier rumors said Samsung had teamed up with 3D-camera startup Mantis Vision to provide 3D-sensing camera tech for Samsung's upcoming smartphones, and those rumors have seemingly been confirmed by a report that the Galaxy S10 will include a full 3D camera, potentially equaling the iPhone X experience. This could also help Samsung's underpowered AR Emoji,  which isn't anywhere near as accurate as Apple's Animoji. Tests from across the Digital Trends office led to some — er — fairly disturbing uncanny valley creations.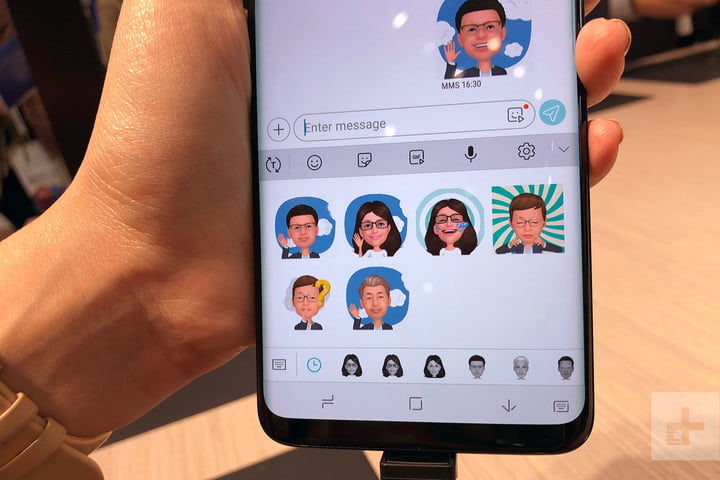 The discontinuation of iris scanning may only happen if Samsung can include an in-display fingerprint sensor on the S10. Reportedly dropped from the Galaxy Note 9 because of technical issues, it may be ready for the S10. The Bell states Samsung is working hard to create a fingerprint-on-display (FOD) scanner, with some seeming success.
Software and special features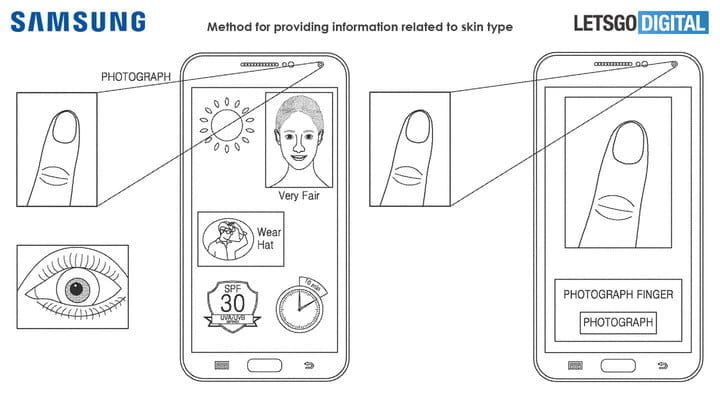 While it's still early to know exactly what Samsung plans to bring to the Samsung Galaxy S10, we do have a few ideas. First off, it's almost certain Samsung's 2019 flagship will ship with Android P. We're also expecting to see a major update to Bixby since Samsung purchased Viv, a startup created by the founders of Siri, and has reportedly been working with them on Bixby for a few years.
There's also the possibility that the Galaxy S10 will feature improved health apps. According to a patent recently unearthed by Let's Go Digital, Samsung is working on an app that determines your skin type and can suggest recommendations to limit sun exposure.  The app will apparently use photos of different parts of your body to determine skin type. Once your skin type is registered it can constantly provide tips and measure your UV exposure.
Last year for the Plus model
Let's be honest: There's not a huge difference between Samsung Galaxy Plus handsets and their Note siblings. And in an overly saturated smartphone market, it becomes difficult to justify releasing two similar handsets each year.
According to the South Korean business site The Bell, Samsung is planning to retire its Plus line of Galaxy handsets after the release of the Samsung Galaxy S10 Plus in 2019. The company plans to merge the Plus model handsets with its Note line to increase profitability.  The rumor comes on the heels of news that sales of the Galaxy S9 smartphones have been sluggish, with second quarter shipments falling behind the pace for the first quarter.
Release date and name
Are we fools for expecting Samsung to stick to its previous release schedule? Perhaps, but we'd still take that wager. However, not everyone agrees, and The Bell says Samsung is aiming for a January 2019 release for the Galaxy S10 at the annual CES trade show in Las Vegas.
It's possible, but unlikely. While Samsung launched the Galaxy S9 at MWC 2018, the Galaxy S8 was launched at its own "Unpacked" event in 2017 — and while the Galaxy S10 may not be as big a redesign as the S8 was, it's possible that Samsung will again choose to reveal its newest phone at its own special event and not jostle for headlines during CES. However, the reasoning behind a CES launch is that at MWC 2019, Samsung will introduce the foldable Galaxy X.
The Galaxy S10's code name is apparently "Beyond," likely signifying that Samsung sees the S10 as the next big thing, with the sort of features that make you want to buy it. In terms of the actual phone's name, while we've tentatively named this article the Galaxy S10, there's no guarantee that's what Samsung's next generation of the S-range phone will be named. Some early rumors point that Samsung will be looking to ditch some of its long-time branding in favor of a fresher name.
We'll be keeping a close eye on Samsung in the coming months, so watch for our updates on the latest Galaxy S10 news.
Updated on October 26, 2018: 5G version of Galaxy S10 may be Verizon exclusive. Less expensive version of Galaxy S10 may also be in the cards.